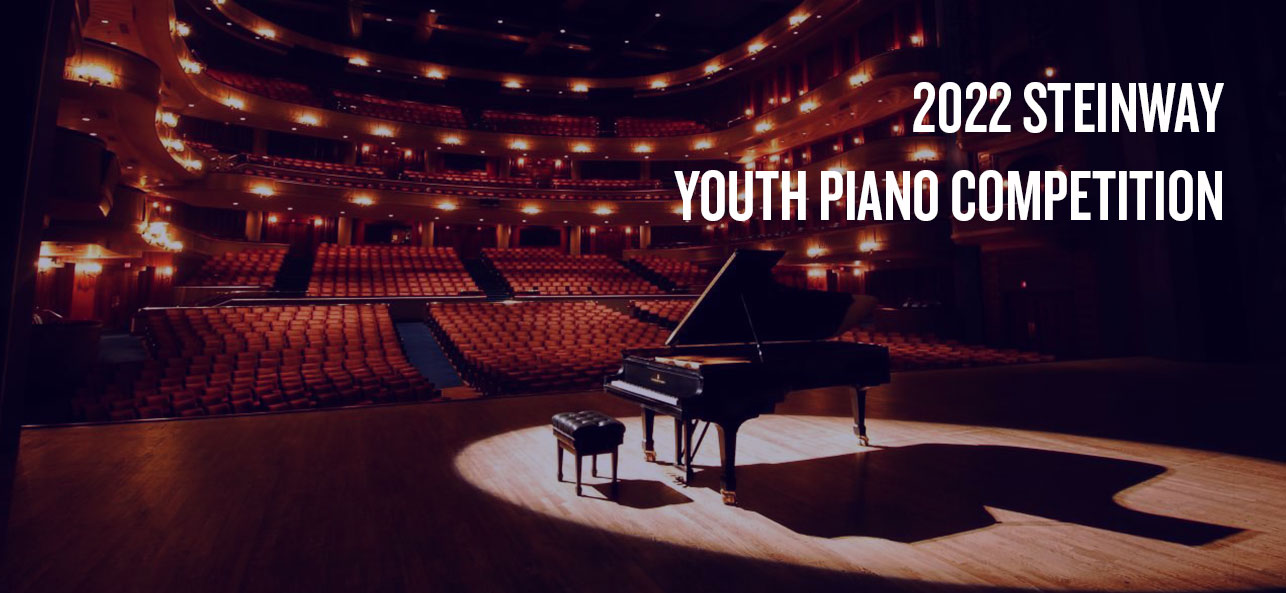 The entry with the highest overall score will also receive an invitation to participate in the Steinway Youth Piano Competition SouthEast Asia Pacific Regional Finals
---
Competition Dates
Registration
1 Jan - 28 Feb 2022
video submissions deadline
31 March 2022
Voting commences
1 - 30 April 2022
The winners will be announced on the 2nd of May
Maximum of 15 entries from each state in Australia.
The registration fee is $50.00. Registrations received before 1st February 2022 are entitled to a discounted registration fee of $30.00.
---
COMPETITION CATEGORIES AND REPERTOIRE
THE REPERTOIRE REQUIREMENTS
Contestants must present 3 contrasting selections totaling a maximum playing time of 20 minutes.
Include the first movement of a Sonata by Haydn, Mozart, Beethoven, Clementi or Schubert. All pertinent program details (Composer, Work, Key, Op., No., Hob., K. designations) for each movement of the work intended for performance must be listed. No concerti or transcriptions are allowed. All works are to be performed from memory.
---
CATEGORIES & PRIZES
CATEGORY I
AGE 6 - 11
First Prize
$400 Cash Prize, Trophy and & Certificate of Recognition
Second Prize
Trophy & Certificate of Recognition
Third Prize
Trophy & Certificate of Recognition
CATEGORY II
AGE 12 - 14
First Prize
$600 Cash Prize, Trophy and & Certificate of Recognition
Second Prize
Trophy & Certificate of Recognition
Third Prize
Trophy & Certificate of Recognition
CATEGORY III
AGE 15 - 17
First Prize
$800 Cash Prize, Trophy and & Certificate of Recognition
Second Prize
Trophy & Certificate of Recognition
Third Prize
Trophy & Certificate of Recognition
The entry with the highest overall score will also receive an invitation to participate in the Steinway Youth Piano Competition SouthEast Asia Pacific Regional Finals.
---
PEOPLE'S CHOICE AWARD
The public will have the opportunity to vote for their favourite performance.
Public voting will commence on the 1st of April and be limited to one single vote per person. Each vote will be verified by an authorization code that will be sent by text to each voter. Please note that voting will be limited to Australian residents only. Voting closes on the 30th of April and the people's choice winner will be announced on the 2nd of May. The performance with the most votes will be awarded a cash prize of $250 and a people's choice certificate. They will also be featured on all Steinway Galleries Australia social media platforms.
---
COMPETITION RULES
Contestants must record their entry on a Steinway & Sons, Boston, or Essex piano. If they do not have one, they can book an appointment in one of our stores. Bookings can only be made between 15th and 31st March and are limited to one booking per contestant.
The pianists must reside in Australia.
The pianists must be considered as non-professional (not playing for fees, not signed to an agent or management).
Strict age limits apply - The contestants must be under 17 on the day of the competition. (Born on or after 31/07/2005).
Contestants cannot change repertoires once their application has been received and entry fee paid.
Videos need to be taken from a fixed camera position showing the person's face and keyboard during the entire performance.
No offensive content.
Parents & Family Members are not allowed to interrupt or give the entree guidance during video recording.
Teachers are not allowed entry during video recording.
Judges will each score the performance out of 10. All judges votes are compiled to determine a winner.
Participants are required to perform the exact same repertoire during finals and further stages of the competition.
Steinway Galleries Australia can use all video entries for marketing purposes.
All video entries must be uploaded to YouTube listed as public.
The YouTube video link must be submitted by 31st March 2022.
---
JUDGING RULES
Judges will assess the contestant's interpretative and pianistic skills, such as stylistic competency, accuracy, musicality, expressiveness, and artistic aspects of the performance.
The assessments of the jury will be confidential.
The jury panel has the final decision and contestants do not have the right to appeal under any circumstance.
---
IN STORE PIANO RECORDING TERMS & CONDITIONS
All recordings must be made during Gallery trading hours.
Bookings must be made by completing our online booking form.
Bookings are for a maximum of 1 hour.
If you need to cancel or reschedule your in-store recording, you must do so at least 24 hours prior to the date of your booking.
There will be no extra time given to participants arriving late for their in-store recording.
Entrants will not have a choice of instrument. One will be allocated by Steinway Galleries Australia staff.
Social distancing measures are to be adhered to at all times.
A camera will not be provided by our store.
Our staff are not available to film your performance.
In the event a customer is in-store or enters the store during your booking – recording must stop and the session will be extended once the customer leaves.
No food or drink is to be brought into the store.
All jewellery must be removed before playing the instrument.